Professor Adamu Zoaka Hassan is the Director of the Distance Learning Centre at Ahmadu Bello University in Nigeria and formerly the Dean of the Graduate School. He has held leadership positions throughout his 29 years at Ahmadu Bello University and is a Professor of Veterinary Surgery. His research interests include eLearning and distance education for massification of education in developing societies. Professor Hassan is interested in distance learning as a tool to bridge the Nigerian educational and economic divide; and comparative evaluation of different DE models for different cultures and regions. He can be reached at hassanzoaka@abu.edu.ng or +234 8127302855.
Professor Hassan
Ahmadu Bello University
Dr Rovincer Najjuma is a Teacher Educator and Curriculum Development Specialist at the School of Education in Makerere University, Uganda. Rovincer received her PhD Degree at the University of Birmingham UK. In 2017-2018, Rovincer was a Commonwealth Academic Fellow at the University of Leicester, UK. Her research focus and interest is in the area of adoption and use of emerging technologies to leverage opportunities and solutions for improving access, participation, learning and strengthening education systems in low resource settings. She has also undertaken research on peace education and revitalising learning and participation in post-conflict northern Uganda.
Dr Rovincer Najjuma
Makerere University
Dr. Joel S. Mtebe received B.Sc. Computer Science and Statistics from the University of Dar es Salaam (UDSM), Dar es Salaam, Tanzania in 2002 and Master of eLearning from the University of Southern Queensland, Australia in 2004. He received PhD in Interactive Technology/Human Computer Interaction from the University of Tampere in Finland. Currently, he is a Senior Lecturer in Computer Science at the Department of Computer Science and Engineering of the University of Dar es Salaam. Dr Mtebe has supervised and examined a number of Masters, and PhD students. He has published more than 40 articles in international journals and presented in several conferences in Tanzania and outside. He can be reached at jmtebe@gmail.com
Dr Joel Mtebe
University of Dar es Salaam
Dr. Lulu Mahai is a Lecturer at the University of Dar es Salaam, School of Education. She is also the Director of the Institute of Gender Studies. She holds a PhD in Education from the University of Edinburgh, MA in Education and Bachelor of Education (Adult Education) from the University of Dar es Salaam. She is teaching and supervising undergraduate and postgraduate students at the University of Dar es Salaam. She has special interest in Digital Education, Open and Distance Learning, Gender Based Violence, Women and Girls in Non-formal Education. She can be contacted through email: mahai.lulu@udsm.ac.tz
DR LULU SIMON
University of Dar es Salaam
Said Ali Said Yunus is an Assistant lecturer in the School of Education (SoE) at The State University of Zanzibar (SUZA). He teaches various courses at Diploma and Undergraduate levels such as Educational Resources, Media and Technology I & II. He did his Bachelor Degree at the State University of Zanzibar specializing in linguistics and education. Also, he received his master's degree from Universiti Putra Malaysia (UPM) specializing in Educational Technology. His research interests include: Technology integration in teaching and learning in higher learning institutions, emerging technologies in teaching and learning such as Flipped classroom, Open Educational Resources (OER) and MOOCs. He can be contacted through this email:said.yunus@suza.ac.tz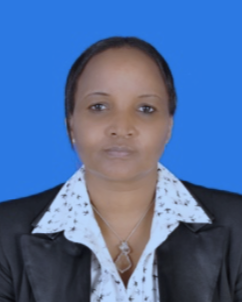 Dr Christina Raphael is a Senior Lecturer in the Department of Educational Foundations, Management and Life Long Learning at the Dar es Salaam University College of Education (DUCE); A constituent College of the University of Dar es Salaam. She is a holder of a bachelor degree in Education (Arts) (2004) and Masters in Educational Management and Administration (MEMA) (2008) from the University of Dar es Salaam-Tanzania and a PhD from University College Dublin (UCD)-Ireland (2014) on Educational Management and eLearning. Dr Christina is a teacher educator and a country facilitator in core skills for teachers and school leaders, ICT integration in schools, and on Problem Based Learning. Most of her researches are on teaching, educational leadership & policy and the use of technologies in enhancing education (e-learning). She has been involved in various researchers and consultancies in education, and integration of ICTs in education and published several articles. Her contacts: christin.raphael@gmail.com
Dr Christina Raphael
University of Dar es Salaam
Dr Rebecca Nambi is a full time Lecturer in the Department of Humanities and Language Education, School of Education at Makerere University. She teaches on the Masters, the Postgraduate Diploma in Education and the undergraduate programmes in addition to supervising PhD and Masters students. Part of her work at the University involves research and she has worked on several English, Literature and literacy research projects at primary, secondary and tertiary levels of education in Uganda. Rebecca obtained her MPhil in Educational Research and PhD from the University of Cambridge where she focused curriculum, research in education, pedagogy and literacy in general. In 2018 she undertook a post-graduate diploma in Educational Technology at the University of Cape Town and she is keen to explore the different pathways in which technology can be integrated in education at various levels.
Dr Rebecca Nambi
Makerere University
Gossy is the President of EduTech, an Education Technology Company focused on helping African traditional universities take their on-campus degree programs online through the implementation of the very best of technology, process management, recruitment, admissions and advisory. EduTech has taken programs from Obafemi Awolowo University, Ahmadu Bello University and others online through its platform, reaching thousands of students in Undergraduate and Graduate Programs.
Dr Michael Gallagher s a Lecturer in Digital Education at the University of Edinburgh, and a member of the Centre for Research in Digital Education. His research interests include critical mobilities research in digital education in development contexts and the implications of such thinking for educational mobility. His published work includes critical perspectives on educational technologies (AI, MOOCs, mobile technology); the mobilities of digital education students; and futures educational research. He can be reached at michael.s.gallagher@ed.ac.uk.
Dr Michael Gallagher
University of Edinburgh